Citrine Energy Management Services
Finding today's best energy solutions to save tomorrow
We are an experienced turnkey energy management service, tailor-making the best product and service solutions for our clients through innovative technology and product design.
We combine world class project management expertise with a focus on incorporating the latest renewable energy technology in order to assist our utility provider's (Eskom) aim in reducing its current demand-side load.
Another way in which we are bringing change to the energy industry is by incorporating and uplifting historically disadvantaged individuals as part of our Expanded Public Works Programme (EPWP) Project Framework.
Services:
– Solar water heating
Solar power is a viable and cost-saving solution for everyday water heating. We are able to provide clients with a number of solar water heating solutions depending on their needs.
– Lighting efficiency
While our focus is on the installation of energy efficient lighting at the initial construction phase of a project, we also exchange and retrofit energy efficient lightbulbs in various housing projects around the country.
– Solar powered lighting solutions
We provide off-grid and on-grid solar lighting solutions, connecting photovoltaic sheets to lighting systems to power homes more sustainably. We specialise in providing (tailor-made) solutions to fit our client's needs.
– Solar energy generation
Using the latest technologies, we help homes to harness the power of the sun, converting it to the electricity needed topower household appliances.
– Smart meter solutions
Partnering with the big names in smart metering systems we operate as a specialist installation entity.
– Energy auditing
We provide in-depth and detailed Energy Audit Reports as part of Eskom's Standard Offer Programme for our clients as well as independent energy measurement and verification services.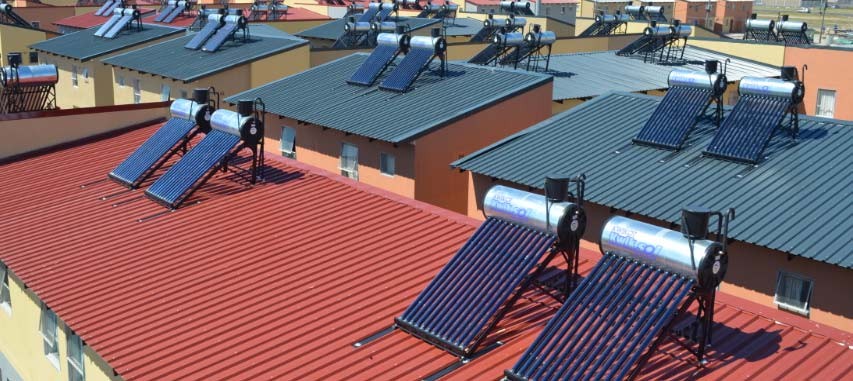 Projects:
We are currently installing 2639 units contracted for full turnkey electrification solutions in Joe Slovo including supply, installation and project management
Installed Photovoltaic off-grid battery powered floodlights in Joe Slovo
Installed 5000 Solar Water Heaters in Ga-Rankuwa, Johannesburg, in partnership with Eskom
Solar heater installed in homes in Darling. Citrine funded the balance of houses when funding ran dry.
Energy audit done in Khayelitsha to identify the reason for an increase in electrical usage and project management and installation of sustainable systems thereafter
Installed over 1 million energy efficient technologies, in partnership with Eskom, within the Western Cape