Welcome to Citrine
Energising homes and businesses isn't only about turning on a few lights; it is about electrifying the future.
Citrine Construction brings energy to the homes and businesses of South Africa so our people have the power to move toward a brighter future.
A leading turnkey electrification solutions company that strives to remain on the cutting edge of electrical technology and related service offerings, we have over seven years track record and proven expertise in providing electrical works for large scale projects. We offer full-service installation, maintenance and rehabilitation of electrical infrastructure services.
Founded with a vision that basic electricity should be the privilege of all, Citrine began electrifying thousands of homes in the N2 Gateway Housing Settlement Project. Since then we have been expanding our capacity and capability to offer not only electrification services but also contract management and project skills for large housing and commercial developments through three central divisions: Citrine Electrical Solutions, Citrine Reticulation Services and Citrine Energy Management Services.
By being innovative, we constantly employ new build and installation methods, allowing us to set standards and benchmarks for our industry.
The real power behind each successful project is our fully trained team of professionals from technicians and service delivery managers to project managers, financial teams, and executives. We are further strengthened with our in-house Integrated Management System (IMS), comprising of Quality Systems, Health & Safety and Environmental Management as well as a fully integrated Enterprise Resource Planning (ERP) IT Infrastructure. We also have access to a network of external contractors who work to the high standards we have come to expect on every project.
All major projects are run from our central office in Airport Industria, Cape Town.
A strong, continuous supply of energy – what we have achieved so far:
Generated close to a quarter of a billion worth of revenue
Participated in well over 100 programmes
Been instrumental in creating hundreds of jobs
A BB-BEE Level 1 AAA company, with the vision and appetite to grow organically as well as embark on strategic mergers and acquisitions in the sector
Gradings, memberships and affiliations
CIDB (Construction Industry Development Board) Level 7EB PE Grading (approved capacity to fulfil contracts to R40 million)
AAA+, Level 1 BEE
Grade 6SO for special works pertinent to solar water heating projects
ISO9001:2008 certified
Member of the South African Black Technical and Careers Organisation
Affiliated to the Tradeworld Western Cape Suppliers Database
Member of the Green Building Council of South Africa
Member of the Sustainable Energy Society of South Africa
Member of The Southern African Association of Energy Services Companies
Accredited Eskom Vendor (ESCO)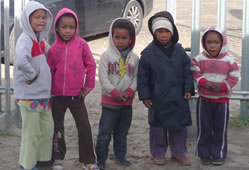 BLIKKIESDORP, DELFT The community of Blikkiesdorp located in Delft is one of the most impoverished sections of the area. It was the initial temporary residential area (TRA) in the community of Delft. When you travel down Symphony Way, you sense a feeling of pride in...